It's getting really close to back to school time around here.
My son will be starting his first year of High School.
Eeeek, did I just say that?! I can hardly believe my little boy, (who is now taller than me) will be a Freshmen!
In honor of all of those wonderful teachers out there that dedicate their talents to helping my boy and other students be the best they can be, I created these little apple magnets. If you haven't noticed, I have been into die cutting lately and creating things with felt.
These cuties are created using a citrus fruit die by Papertrey Ink.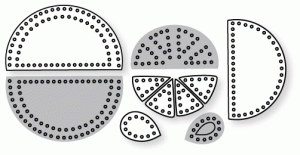 I actually took the negatives from the little die on the bottom right to make the
apple seeds. Then I used the little die to the left of that to create a leaf for each apple slice.
I also wanted to note that tucked and sewn into each slice is one Rare Earth Magnet. These are SUPER strong! Just one finished apple magnet will hold up to 4 sheets of heavy weight cardstock on your fridge.
How about that? No more papers and reminders slipping down your fridge!
I am offering up a set of three apple magnets in my Etsy Shop.
These make perfect back to school gifts for teachers and a great way to show your appreciation.
Have a great day!